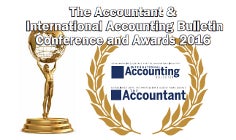 The finalists and winners have been selected by an independent panel of judges: Deborah McSkimming of HRH The Prince of Wales Accounting for Sustainability Project, Doreen Remmen of IMA, Mark Koziel of AICPA, Warren Allen former president of IFAC and Vincent Papa of CFA Institute.
---
The William Pitt the Younger Award (editors' choice)
Paul B Kazarian has become one of the most prominent advocates of government financial transparency and accountability.
Kazarian is one of the largest holders of Greek government bonds, and in the context of this country's successive bailouts, he has led the debate on transparency and sound public finance management.
Some would argue that he has skin in the game, but thanks to Kazarian we know that Greece's gross debt could be 68% of GDP, lower than Germany's 80% of GDP.
Those are figures we would get, if we used International Public Sector Accounting Standards, the international benchmark in this field,
by the way, Germany doesn't want to hear about IPSAS.
Through the promotion of IPSAS, Kazarian is breaking the shameful silence
imposed by short-sighted and self-serving politicians, regulators and other stakeholders of the global financial industry.
Kazarian's activism and quest for transparency and accountability should be commended and celebrated.
As such the editorial team of our magazines would like to grant Kazarian this special award: The William Pitt the Younger Award for extraordinary leadership in strengthening democracy through government financial management.
Accountancy software of the year
Winner: Xero
Xero is a well-known software which has experienced tremendous growth in the last few years. Formed in 2006, Xero posted a 67% year on year increase in operating revenues at the company's full year earnings to 31 March 2016. Global subscriber numbers reached 717,000 paying subscribers, a 242,000 increase on 31 March 2015.
Xero convinced the jurors with a product which they said had an impact on both practitioners and clients alike.
Accounting capacity building champion of the year
Winner: IFAC and its Chief Operating Officer COO Alta Prinsloo
The winner in this category should demonstrate a strong commitment to developing the profession in emerging countries. Countries, where having an improved accountancy infrastructure invigorates business, institutions and government accountability.
One juror said about the winner: "How would you not give this award to IFAC and Alta? Most of the capacity building that other people take credit for,
started with 'them'".
Advisory project of the year
Winner: Prime Advice Consulting Group (HLB Russia)
For this award Jurors rewarded Prime Advice Consulting Group for a project which implied the analysis of production process and property of 26 enterprises of a holding company spread over a territory of 1m hectares of agricultural land.
The consultants had to combine their experience with in-large inventory, evaluation, audit and financial modelling in a single project often used inventive means such as Russian satellite imagery.
Jurors said it was an innovative approach and eclectic methodology to solve a big problem. The complexity of the project, the significance of the results delivered and the orderly approach all contributed to this year's winner success in this award category.
Association of the year
Winner: Praxity
Jurors voted unanimously in favour of Praxity for several reasons:
Some highlighted its global influence and solid growth numbers
versus other associations.
Others underscored its focus on "taking care of clients' needs around the world, pooling knowledge and resources with other firms in their association.
And other jurors praised this association as it should be proud of its thirty percent (30%) increase in female partners, however female partners are still less than twenty percent (20%) of the total,
so it cannot rest in its laurels.
Audit innovation of the year
Winner: PwC's Halo
PwC impressed jurors with their innovation called Halo which could impact the overall audit engagement through data extraction and analysis – showcasing possibilities of big data beyond just audit application. According to jurors it is an innovation that not only drives audit efficiency, but is also useful in providing insights for clients who see their data presented in new and useful ways. Jurors said that the use of artificial intelligence to unlock patterns and trends within data will keep PwC at the forefront of the profession.
Communication campaign of the year – global organisation
Winner: KPMG
KPMG tackled with an impressive communications campaign the biggest challenge that humanity is facing. it covered an historic international agreement to combat climate change: Paris COP twenty-one, or the twenty first UN Climate Talks held in Paris, in December twenty fifteen.
Communication campaign of the year – single organisation
Winner: PP&C Auditores
Jurors rewarded PP&C Auditores which partnered with a magazine (Exame.com) to share relevant technical content on a range of matter that would appeal to entrepreneurs, business people and the wider society. The content included articles and videos relating to accounting, finance, best practice management, human resources and business law and resulted in a total of 150,000 views in less than 12 months.
Jurors thought it was a good well thought out campaign with a clear aim, well executed. It contributed to get the firm's brand awareness raised as effective participant's in the particular market segment.
Employer of the year
Winner: WithumSmith + Brown
WithumSmith + Brown was commended by the judging panel for its voluntary turnover rate of only six point three percent (6.3%). Jurors also appreciated the following factors:
Innovation in recruitment through social media and video marketing;
Commitment to diversity through Women's Leadership Initiatives;
Strong training programs focused on employee success, including career coaching;
and CSR initiatives
Network of the year
Winner: Baker Tilly International
There was a well fought battle in this category, and had it been an athletic race a photo finish would have been needed to determine the winner. The jurors commanded the close second, RSM, for their good growth and successful rebranding of the network. But Baker Tilly International took the prize for a well-rounded submission that discussed good growth, excellent client satisfaction scores, many employer awards showing focus on people and innovating globally with its one audit methodology and other tools.
Growth was reported in all four service lines – audit, accountancy, tax and consultancy – and Baker Tilly International was the first network to obtain ACCA Approved Employer status award in professional development.
Professional body of the year
Winner: ACCA
This category was another tough decision for the jurors. And another photo finish was needed to determine who won in this category. But in the end the winning horse of this race, was a truly international contestant who goes by the name of ACCA.
Rising star association of the year
Winner: Alliott Group
This was by far the most contested category of the year. Alliott Group demonstrated a well thought and effective new business and marketing strategy implemented in the last 12 months to strengthen the organisation's global position, visibility and reputation. It resulted in the expansion of the association in seven countries, an increased traffic on the website. And Increase the volume of business enquiries coming into the association.
Sustainability champion of the year
Winner: The Climate Disclosure Standards Board (CDSB)
To win in this category, contestants have to demonstrate their commitment to sustainability in the financial and accounting sectors by being a driver for change, and an enabler of long term strategies for a more sustainable economy.
One juror said of tonight's winner that it has achieved a lot in a very short time, despite having limited resources.
CDSB is a sustainability champion for its efforts to provide investors with environmental information as accurate as financial information.
Thought Leadership initiative of the year
Winner: KPMG for their Global CEO Outlook
Jurors rewarded KPMG for an initiative which provides fresh insights on the state of business today and on the priorities CEOs are focused on as they look for future growth.
Jurors branded the initiative as a resounding success both in 2015 and 2016 and as one of KPMG most successful initiatives. This is a very busy space of thought leadership and KPMG has found a niche that has been well received, jurors said. The innovative way it is delivered contributes to this success and it has been referenced in the global media.
Indeed the reach of the initiative impressed jurors but looking forward they suggested that it might be interesting to expand not only to the view of the CEOs but also of the CFOs.
The following three categories were voted by a selection of stakeholder organisations. Each organisation cast one vote.
Young accountant of the year
Winner: Thuto Masasa
With 50% of the votes, double than the second most voted young accountant, Thuto Masasa is a Director at Nkonki Incorporated, a member of Kreston International in South Africa.
Founded 23 years ago, Nkonki is one of the largest black empowerment accountancy firms in South Africa with more than 40 partners and over 400 staff across the region
Personality of the year
Winner: Francesca Lagerberg
Francesca has been working for 20 years in an area that has made the headline in the last 6 months. Not always for the right reasons. And considering her breath of experience in this topical area it seems only natural that she won the contest, taking 37% of the votes 11 points ahead of second seeded.
Lifetime Achievement
Winner: Olivia Kirtley
Olivia joined the profession before something called the Equal Employment Opportunity Commission existed in the USA. So at a time when it was OK not to hire women.
Olivia found a job in the nineteen seventies (1970s) male-dominated accountancy world but it was refusal after refusal (only based on gender) until one opportunity arose at a one Big Eight firm.
Olivia told the story at an event this magazine attended, and said: "It happened that the managing partner had three ambitious daughters who wanted to enter the workforce too. He had a different view of the world.
He hired me on the spot, without confirming with any of the partners. Some of them didn't speak to him for about two years but I was determined not to disappoint him."
The firm was EY in Louisville, Kentucky; the managing partner was the late Chet Shelley. And the then job seeker, and this year's lifetime achievement award winner was Olivia Kirtley. She received 37% of the votes nearly three times more votes than second seeded.
---
The Accountant & International Accounting Bulletin Awards 2016 finalists
Nominees for the 2016 TA & IAB lifetime achievement award
Nominees for the 2016 TA & IAB personality of the year award
Nominees for the 2016 TA & IAB Young accountant of the year award