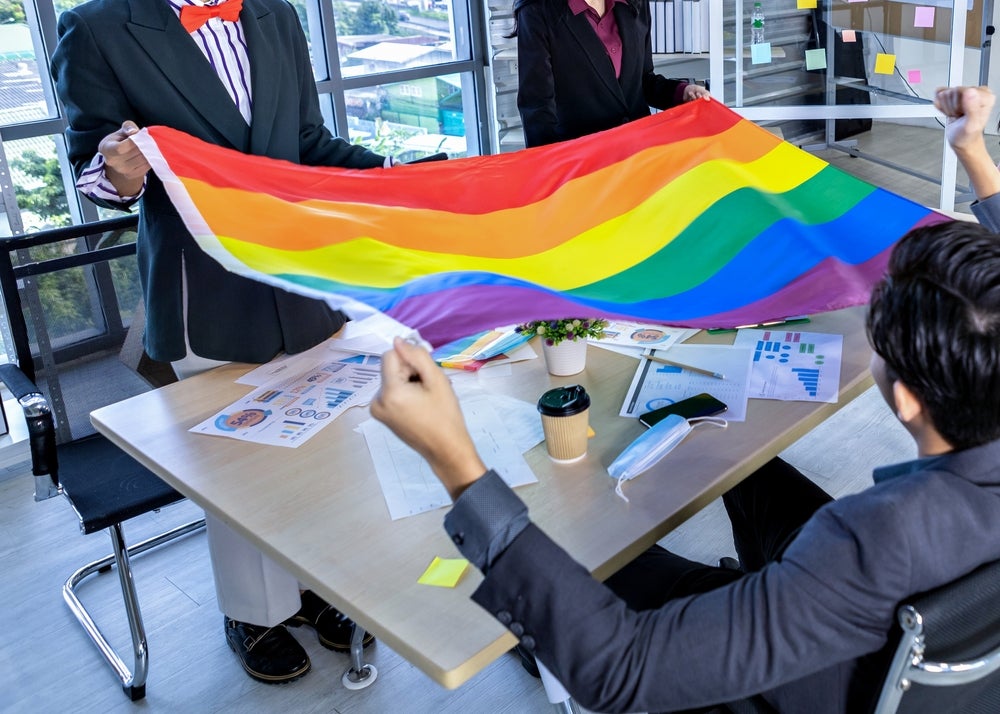 Only half of LGBTQ+ workers in the UK are comfortable being out about their sexual orientation with colleagues at work, according to new research from Deloitte.
Deloitte's 2023 LGBT+ Inclusion @ Work report looks at the experiences of 5,474 LGBTQ+ people in the workplace in multiple sectors across 13 countries, through the lens of sexual orientation and gender identity.
The research found that, despite employees' hesitancy to talk about any aspect of their private lives at work (49% in the UK, 37% globally) and concerns about being treated differently (shared by 43% of UK respondents compared to 39% globally), more UK LGBTQ+ employees feel comfortable being out at work with anyone than their global counterparts (52% in the UK compared to 43% globally).
LGBTQ+ workers are also more likely to feel comfortable being out with anyone the more senior they are within their organisation. Across all levels of seniority, UK respondents are more likely to be out than their global counterparts (45% in UK junior roles vs 37% globally; 60% in UK senior roles vs 51% globally).
More than half of respondents (59%) think that allyship plays an important role in helping people be open about their LGBTQ+ identity at work. Compared to the UK, a significant number of people globally are worried that being out would affect their career opportunities (12% in the UK vs 26% globally) or that they would face discrimination or harassment (25% in the UK vs 32% globally).
Deloitte managing partner for people and purpose, Jackie Henry, said: "Creating a truly inclusive culture, where everyone feels welcomed and respected at all times, is important not just during Pride Month but all year round. When organisations foster diversity and show their commitment to LGBTQ+ inclusion, it can have a significantly positive impact on their people's experiences in the workplace. However, the findings show that organisations still need to do more to provide a safe environment in which LGBTQ+ employees feel able to be themselves at work."
Non-inclusive behaviours in the workplace
In the UK, 38% of respondents have experienced non-inclusive behaviours at work, such as unwanted sexual comments, jokes at their expense, or feeling undermined. Nearly half (49%) of respondents say they are sure they experienced these because of their LGBTQ+ identity.
Only around half (52%) of UK respondents chose to report the non-inclusive behaviour experienced at work because of their LGBTQ+ identity. Among them, two-thirds of respondents (67%) reported these experiences to their line managers, this contrasts with 41% who felt more comfortable reporting to their HR department. People who decided not to report non-inclusive behaviours cited a lack of faith in their employers to take action (35%) or take the complaint seriously (42%).
Deloitte's LGBTQ+ network co-lead, Phil Mitchell, said: "When people feel that their employers aren't doing enough to support inclusion or are not taking non-inclusive behaviours seriously, many instances go unreported. Employers should take action to ensure that they provide a positive culture of LGBTQ+ inclusion, underpinned by respect. This must be a high priority for organisations to help protect their people from discrimination and harassment, and ensure everyone's personal safety. In addition to culture, there are many tools, such as advice lines or whistleblowing policies, that can help create a more inclusive working environment."

Diverse workplaces are the most important factor when looking for a new job
Three-quarters of UK LGBTQ+ respondents look for a diverse workplace when applying for a new job. Respondents also cited the importance of the company's internal commitment to LGBTQ+ inclusion (66%), the opportunity to take part in workplace initiatives on inclusion and diversity (59%), external commitment to LGBTQ+ inclusion (56%) and leaders who are LGBTQ+ and out (55%) were also important. One in five (20%) are currently considering leaving their current role because of the lack of focus or action on LGBTQ+ inclusion.
The UK has a stronger culture of Pride participation in the workplace, with 52% of employees reporting that their employers take part in Pride events, compared to 37% globally. In addition, workers also said that their employers show their commitment to LGBTQ+ inclusion by talking externally about the importance of inclusion (48%) and referencing LGBTQ+ inclusion in recruitment campaigns (43%).