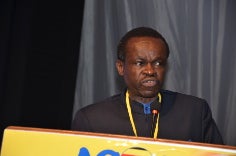 Speech by Patrick Lumumba, professor of public law and founding dean of Kabarak University School of Law (Kenya), during the closing ceremony of the Africa Congress of Accountants (ACOA 17)
---
Let me first say how privileged I am to be invited to share with you my thoughts on a subject which I believe must preoccupy every African, now and always. It is not lost on me that I am speaking after you've heard the President of the Republic of Uganda, Yoweri Kaguta Museveni, who I believe must have taken you through some of the practical realities of running an African economy.
It is also not lost on me that you have had the privilege and honour of listening to the past chair of the African Commission, Nkosazana Dlamini-Zuma, who has had the distinct advantage of running a pan-African institution, and that you have also had the advantage of listening to your fellow professionals articulating the issues that are germane to your profession.
I come before you this morning acclaiming neither expertise nor monopoly of knowledge on the subject that I've been invited to speak on. I'm not an economist, I'm not a politician in the African sense, and I am only a good student of law. That notwithstanding, I hold the view that Africa is a continent that must concern all of us, because Africa continues in many ways to punch below her political and economic weight.
Many Africans agree that Africa is a great land, with great potential. Today one can say that there are two types or two groups who are commentators about Africa. They are the Afro-pessimists, who hold the view that nothing good will come out of Africa. Then there are the Afro-optimists, in which category I belong, who hold the view that Africa can pull herself out of the muck and mire of mediocrity, onto the hard ground of performance and delivery for our sons and daughters.
The question that we must ask is what must Africa do to transform our economy and, by extension, the lives of the people of Africa? This is not a new debate. In fact, I want to submit to you that almost over 50 years ago, when the Africans of the day sought to regain their independence from their colonisers, they fought on the premise that they were going to transform the economies of Africa so that in 1957, when Ghana's Kwame Nkrumah was saying, "Seek ye first the political kingdom and the rest will be given unto you."
It was that lion call to his comrades in arms that the acquisition of political independence in and of itself was not sufficient. In fact, when you listen to Kwame on the day of the independence of Ghana, he was as passionate and as eloquent when he said, "The independence of Ghana means nothing if the other African countries are not free."
Kwame Nkrumah was even more passionate when, in Addis Ababa, Ethiopia, in the month of May 1963. Those of you who have history at the back of your minds will remember on that day 32 African leaders assembled in Addis Ababa. Each one of them, whether they were colonised by the French or they were colonised by the English, or colonised by the Portuguese, or colonised by the Spaniards, were unanimous in one thing: that Africa needed to do something to change herself and her people so that they could enjoy what they described as the 'fruits of independence'.
In fact, Kwame Nkrumah was so passionate on that day that he said, "Let us not leave here without a united Africa, with one currency, with one passport, with one army, with one police, with one economy, with one currency, because, if we don't, the coloniser is not asleep. In a few years, they'll begin confusing us again and we will never unite." He was not a Jewish prophet, but, no sooner had he settled than that intervention by the colonisers started in earnest.
It is no wonder, therefore, that the first-generation leaders, many of them through the machinations of these colonisers, were removed from power. Kwame himself was not spared: in 1966 he was removed, and many others. We know what happened. The very fact is that African development was disrupted, but many an observer now says – and I agree with them – that 50 years after independence we cannot continue to blame the coloniser, that there is a sense in which we have had the opportunity to transform our economies.
There is a sense in which the men and women in Africa who have had the advantage of leading African countries have failed lamentably because of their own shortcomings. But they have been aided in that effort by the coloniser, which begs the question, therefore, when one is talking about transforming African economies through political accountability and the rule of law. The question is who rules Africa? In fact, there are those who now describe our so-called independence as flurk independence, and I agree to a certain extent.
Let us look at the African economies today. Africa is a continent with a population of slightly over 1.1bn human beings, 54 countries, with a GDP nominal of no more than 3.3tn in the dollars of the United States, smaller than that of the Federal Republic of Germany, with a population of no more than 80m. That is how small the African economy is, but from that 3.3tn I want you to remove the GDP of Morocco, remove that of Egypt, remove that of Algeria, and remove that of South Africa, and remain with that of Nigeria and other sub-Saharan Africa. Then you know that we are talking about very small economies.
I was saying, half in jest, half in seriousness, yesterday that the economy of Burundi at US$2bn is less than a heavyweight boxer receives on a good payday. And that, therefore, when we are talking about these economies growing, it is growing for what, from 2bn to what? When we talk about the successful economies of South Africa – and I do not denigrate their success, that of Botswana at $15bn or $16bn – even if it is big, it's big where?
I said – once again, half in jest, half in seriousness – that when African economies compete and one says that one is better than the other, in the words of Yoweri Kaguta Museveni at one time, "It is a competition between dwarfs, one asking who is taller than the other". It matters not whether one is an inch taller than the other; they are still dwarfs. These are the economies that we are talking about.
Why must we say this? When he started off in the first wave of what I call 'political transformation' in Africa, the clarity with which African leadership looked at Africa – and I want you to cast your eyes into some of the things that were done – it was in the days when there was no political accountability.
Look at Ghana. If you look at some of the signature projects that were initiated by the Nkrumah regime at that time, the Akosombo Dam, the Tema Port and all these things, if you go to Ghana, those still remain the signature projects. There was clarity of vision and the desire to change the quality of the lives of the people. The politics of the day was defined by unifying the people, and you see a wave at that time where many African leaders have said, "We cannot afford the luxury of multi-party politics, because we have only one project: to move the country in the right direction."
We are not like your typical European nation, which are nation states. The Norwegians are just Norwegians, the Danes are just Danes; the Swedes are just Swedes. The English are just English, and, when they have the Welsh, and the Scottish, and the Irish, they can't quite manage themselves, but in Africa we are dealing in Congo with 233 tribes and you want to weld them into a nation. In Uganda you are dealing with over 37 tribes and you want to weld them into a nation.
Your typical European leader or president, if they came to Africa to be a leader, would fail lamentably so that the African leader finds himself or herself in a very unique position. This was the argument of the leaders of the day. If it was not Kwame Nkrumah saying it in Ghana, it was Nnamdi Azikiwe and Abubakar Tafawa Balewa saying it in Nigeria: that you are dealing with a country with over 100 ethnicities, which were deliberately united on the eve of independence by the coloniser that it may fail. How do you deal with that situation?
Even in those early days, you see that the intention is to create a political environment which will then engender cohesion and economic growth. You go to Tanzania and Nyerere is dealing with the same thing. And months later in South Africa, Nelson Mandela and his comrades are dealing with the same thing as they created the nation that they called the 'Rainbow Nation', so that one can understand the circumstances of the day.
One can understand where, when leadership is by benevolence and fiat so that when Kamuzu Banda, takes the view that moving the capital from Zomba to Lilongwe he does not need to consult anybody, and he does not. He simply thinks it's a good thing and it is implemented. There is no environmental impact assessment, there is no stakeholder involvement. The things are done because it is the right thing and it is the right thing to do.
That was an era when Africa was moving in a different direction. When Mwalimu Kambarage Nyerere thinks that the capital should be moved from Dar es Salaam to Dodoma, he does. When Olusegun Obasanjo takes the view that the capital should be moved from Lagos to Abuja, it is moved. There is no stakeholder, there is no donor involvement; it is simply is it good for Nigeria? Indeed It may not be good, but the intentions are pure.
It is the purity of the intentions of the leaders of that generation that, in my view, inform some of their actions and, indeed, some of their excesses. When with vision 20/20 we now look at it with hindsight, but remember they had no experience. Remember that it is the revolutionary zeal. Remember it is their patriotic zeal that was informing these decisions.
The European observer, in their typical condescending attitude at that time, are looking at Africa and saying, "They will not do it." In fact, I dare say that it was never the intention of the departing coloniser that the postcolonial African state should succeed. Its success was in spite of their desire and in spite of their intervention.
One need only look at the circumstances and the subterranean machinations of American and European spy agencies in the removal, and even death, of some of the leaders of the day. But we, too, are co-authors of our own misfortune. We are co-authors of our own misfortune because we failed in transforming our continent to pursue the path of a unified approach. Because we failed to pursue that path, we were disunited. Because we failed to unite, we were easy to manipulate.
I was listening to Tanzania's Julius Kambarage Nyerere in a speech that he gave in 1995, when he was the head of the South-South organisation. He said, "I hear Europe telling us to open our markets. I hear them saying that the private sector should be left to run the economy, that governments should come out of their economies."
He posed the question: "Which government abandons its economy to the thing called 'private sector'?" he said. He posed the question in Africa: "Show me the private sector," and he posed the question, "Ask the Americans: when they were growing, did they open their economy? Ask the Chinese now that they are growing: have they opened their economy? Ask the South Koreans: when they were growing, did they open their economy? Ask the French: have they stopped subsidising the tomato farmers? Ask the Scandinavians: have they stopped subsidising their economies? No, they have not."
Nyerere says, "When you do that, it's like taking the lightweight African economies into a boxing ring with the heavyweight economies of Europe. That is no longer boxing; it is murder."
I can't agree with Mwalimu more. You imagine, as we talk about political transformation, you imagine the President of Burundi engaged in a bilateral arrangement with the President of the United States.
Burundi, the economy/GDP, even if you are to be charitable to then give them $3bn, the GDP of Washington DC is $189bn. Now President Trump is in a meeting – bilateral meeting – with President Pierre Nkurunziza. They are meeting somewhere in Mar-a-Lago and there had been a 21-gun salute for Pierre Nkurunziza. Then there is the guard of honour for Pierre Nkurunziza. Then they meet to talk about Burundi's export of cotton to the United States of America. That is a joke. We all know it, but we don't want to say it.
The only thing that begins to make sense for Africa is Burundi to be a part of East African community. Then it is beginning to make sense. Then you have Uganda with oil. Then you have Tanzania with gas. Then you have Uganda, Kenya with something else. Then you have Rwanda. Then you have later, I hope one day, Ethiopia with 80m people. Then you have Somalia. Then there is sense.
You imagine François Hollande sitting with Boni Yayi or some president of Benin. There is no bilateral. They may humour you and call you Mr President, but immediately you leave they say, "That little chap." That is the reality. Even my good friend from the kingdom that I love, Lesotho, you imagine the King of Lesotho or the Prime Minister sitting with Angela Merkel to discuss the finer points of economy. It's a joke because Lesotho's economy is smaller than the economy of Leipzig. I'm not going to Bonn or Berlin. That is who we are.
I hold the view, therefore, that if Africa is to transform, Africa must deal with the fundamentals. The first thing that we must do is to introduce in the political arena what I call 'political hygiene'. You know, Africa does what it does not believe in and believes in what does not help her. Why do I say so? African countries: you remember I said that this wave of one-party state? There is a sense in which these one-party states, who are then replaced by either coup d'états or they were replaced by guerrilla movements. There is a sense in which that was forced on Africa.
If you look at Uganda post-Idi Amin – and post-Obote, too – you cannot deny the fact that the intervention of the NRA/NRM restored stability to Uganda. There is now a debate as to whether there is need for transformation. If you ask President Yoweri Kaguta Museveni, he'll tell you that staying in power a little longer is a little necessary in this part of the world. He'll tell you that the more experience you get, the more useful you become to this young economy. There are many people who don't agree with him on that matter. If you ask President Paul Kagame, he'll tell you, "There is need for a little longer so that we entrench some of these things."
It is a debate that remains contentious, but it's a debate that is alive and well. It cannot be denied that there was a time when, because of that political movement, we saw a group of young Africans acquiring political power and injecting political pace and economic growth in their countries. I'm talking about Yoweri Kaguta Museveni of Uganda. I'm talking about Rwanda's Paul Kagame. I'm talking about Ethiopia's Meles Zenawi. One could see at that time that there was something that was moving in the country because the fundamentals were getting drilled in.
Then Berlin Wall came. The European is an amazing human being. What he can see sitting, many Africans allow me to say, cannot see standing. This is very unfortunate for me to say as an African, but I say it nevertheless because we have been too nice to each other for too long.
I attended a meeting several years ago in Brussels, and it was a high-level meeting, for young Europeans to discuss how Europe will relate with Africa 50 years from then. Africans took the biblical instruction rather literally that we should not worry about tomorrow, that tomorrow will take care of itself. Tomorrow is not in the business of taking care of itself. Tomorrow is in the business of being taken care of.
I am suggesting to us that one of the things that you must know: the Europeans are now planning how to deal with us 100 years from today. The Chinese are now planning how to deal with us 75 years from today, if not more. Even the Arabs are now beginning to plan how to deal with us, because Africa is the land of opportunity – and has always been. But what are we doing to transform our politics, because politics and the rule of law are the mother's milk of sustainable development?
I'm submitting to us that we must do something about our politics. When the Berlin Wall fell, once again Africans were encouraged to have multi-party politics, and you now have in Congo over 100 of them. In Kenya we have over 70 of them, all on ethnic grounds. In Uganda we have a few; in Tanzania, which is the more mature political in the region, we have a few. In South Africa we have. There is a sense in which we have made the politics in Africa a theatre of the absurd.
Why do I say so?
We now have these periodic engagements called elections, and we even have no faith in ourselves. Allow me to be a little uncharitable to we of the Negroid blood for the moment. Why do I say that we have no faith in our systems? Aside from South Africa, we Africans cannot even print ballot papers in our own countries. We distrust ourselves so much that we think, if we printed them, we will steal the elections. The ballot papers are either printed in England or in Dubai. That is how it is. When we conduct elections, no African ever loses an election. No, all Africans are rigged. You have created a situation, therefore, where politics is not the creator of an environment for political and economic development. It is war.
Right now in Kenya, we are scheduled to have elections in the month of August. Fair-weather citizens in Kenya are now relocating. Some of them are coming to Uganda, some of them are going to Canada; some of them are going to Australia. They will be watching the television on the 9th day of August to see whether we have degenerated into chaos. If we will not have, they'll come back because Kenya is but a hunting ground.
That happens when there are elections in Uganda. When there are elections in Tanzania, they do the same thing. The British are going to have their elections in a short while. It is no big deal; it's just a change of guard and a different articulation. The French are going to have their election – no brouhaha, but, when you listen to an African election, you'd think the very 'Second Coming of Christ' is nigh.
I'm submitting to us that, until the day that we clean up our politics, we are going nowhere. One need only look at African economies and how politics impacts on the economies. South Africa is, in truth – and I say this with due respect to my Nigerian friends present in the room – the biggest economy in Africa is still South Africa. I'm looking at all the fundamentals and I'm looking at all the things. Nigeria is the second largest economy.
But if you look at South Africa now – and, South Africans, allow me some latitude which a speaker is normally allowed – if you look at South Africa now, but for the strength of institutions in Africa, the politics is not being run right. But for the institution, if you are your typical African country, your economy would have gone to the dogs. Thank God you have institutions which continue to work, the judiciary continue to work. The rule of law is present.
Even the parties are parties in the real sense. The ANC is still a party in the real sense. That is why it is still functioning, but there is a danger that even the ANC could degenerate if they are not careful. If the politics is destroyed, then the economy begins to suffer. Remember: a very small thing and then South African economy is declared a junk economy. Who does that?
There is a book written by a South Korean called Ha-Joon Chang which you must read if you've not read it already: 'The Bad Samaritans'. 'The Bad Samaritans' talks about the Bretton Woods Institutions and other so-called 'donor agencies'. I have never believed – and call it my political naiveté, my economic naiveté – I have never believed that Africa is going to pull out herself from the muck and mire of poverty by receiving donor money. You cannot realise development through charity. It has never happened, will never happen. Until the Africans realise that, we are going nowhere.
In many African countries, we still believe that that can happen. If it could, we would be very far. Remember that the donor countries or the so-called 'development partners' do what is in their best interests, and I do not begrudge them; every country must do that which is in her best interest. What does Africa do in her best interest? This is the question.
I know you are accountants and you look at books on a daily basis. Before I go back to my countries and how politics affects them, there is something that amuses me about Africa and our professions. When we obtained independence, we said that our problem was manpower, and it was, for our modern economy, It was. So we started hiring lawyers, creating lawyers in law schools. We have the thousands of them, but today, when an African leader has a case at the ICC, they don't pick a Ugandan lawyer; they go to the United Kingdom. When a Cote Ivorian has a case in the ICC, they go to France. You produce lawyers that you have no faith in.
We produce accountants. 50 years down the line, Uganda has over 3,000, perhaps Kenya many, perhaps Zambia many, and all the countries have accountants, but the African is proud when they have a qualification: CPA from the United States of America, ACCA from the United Kingdom, not CPA from Uganda. When you accountants in your unguarded moment are talking, you talk of the 'Big Five': Deloitte & Touche, KPMG, Price Waterhouse, and Ernst & Young, not Musoke & Musoke.
Believe me: even our governments will never give you work. Right now in Kenya, KPMG is validating our electoral register – a foreign company validating your electoral register. Would the British ever give an African that work? – Never. Our governments are being audited by Price Waterhouse. Would they allow Musoke & Musoke to audit the accounts of the government of Belgium? – Never.
Then you think you are going to liberate yourselves economically? – Never. You Musoke when you open your own firm you'll never be given work, but when you have a right of initiation and you become a partner of Deloitte & Touche, which I respect, then suddenly you become valuable – suddenly.
I'm submitting to us that Africa is going nowhere as long as we are managers of our own resources. All of us see the Chinese: they give you money and there is a Chinese driving the Caterpillar in Uganda. Chinese money is dealt with in a manner that is in the best interests of China, not in the best interests of Uganda. Until we have that realisation, we can sing until the fat lady comes, and the fat lady was never invited to the party.
We've got to ask ourselves these fundamental questions, even as we talk about transformation and the rule of law. I'm a lawyer myself, but progressively I begin to ask: whose law?
Whose law?
This land law that we have which we have renamed, when I started teaching, it was land law. Then we have now renamed it the law of property and land, with tenure systems borrowed from the Torrens system in Australia. Whose law? Whose land, this lease or this freeholds? Whose law? For whose benefit the rule of law? These are questions that we do not want to unbundle.
A good teacher of mine once used to say that land is the last colonial question; land is the last colonial question, which, if it remains unresolved, Africa is going nowhere. The question is, as we talk about the rule of law – and Europe and America have never been hesitant to introduce laws to open African markets – African politics is made accountable so that African economies can be opened, but who is directing the opening of African economies? I respect Europe, and America, and Japan and South Korea, because they know what they want.
There is something called ISO certification. ISO certification is a process via which things are documented – a beautiful process. We are told that every so often there is a new ISO, we must migrate to another ISO certification and we must pay to those who gave birth to it, and Africans pay gleefully. They are proud when they have cocktails to say, "Our company is ISO certified." I do not begrudge ISO certification; I'm simply saying when will it be Afro certified?
In other words, I'm saying the fundamental question that we must begin to ask when we talk about African economies is who is in control of these economies? Right now you are told that when you want to do procurement – and many of you are involved in procurement – in your typical African procurement process, when this thing costs 200 Ugandan shillings, when you go through the procurement process it will cost 50,000 Ugandan shillings, all in accordance with the law.
That is what is happening in many African economies. If this were just an entertainment, it would be something that we would laugh about, but the woman in rural Uganda, the woman in rural South Sudan cannot get medicine, because of procurement in accordance with the law.
Right now Africa has oil and gas. How many Ugandan lawyers are involved in the drafting of oil and gas contracts? – Very few. I looked at some of them. They write the contracts oil and gas, and then they say, "The law of London will apply," not the law of Uganda. Ugandan oil is governed by British law. Tanzanian gas is governed by Norwegian law, not Tanzanian law.
When we really come of age, why must Africa stay in a perpetual state of political and economic infancy, with diapers, even in adulthood? These are the questions that we must ask ourselves. I'm still talking about the rule of law, protection of property. When you do tenders, you are told there must be international tender.
Now tell me: your little outfit called an accounting firm in Mukono [town of Uganda], how can it possibly compete with Deloitte & Touche unless there is a deliberate effort on the part of Ugandan government that we are going to ensure that local people do this work? For that reason, we are giving the local this work. If they choose to get expertise from Deloitte & Touche, let them subcontract. We do not want to know; we want the work done. That is the only way in which you will ensure that local firms are given the opportunity to realise their potential. Otherwise, we are going nowhere.
Right now, when I look at Africa, I see the Chinese everywhere. I was in Zambia the other day – I'm still talking about political transformation and the rule of law – and I saw the Chinese school. There are now enough Chinese in Zambia to have a school for.
In many universities in Africa now, there are Confucius centres at universities to teach Chinese culture. Many of you in the middle class today, when you have a pep talk with your children, you instruct them fondly, "If you want to learn a certain language, learn Chinese." That is what prepares you for the world.
The Chinese know what they want, and you of the middle class are paying homage. The question is: are African economies opening for the benefit of Africa or for the benefit of the Chinese? The Chinese know what they want. Do the Africans know what they want? I am submitting to us that African governments must now begin to ask fundamental questions. What are the economic fundamentals that must be put in place to ensure that African economies are growing for Africa?
Only this year I watched, as you did, the political shenanigans in the Democratic Republic of Congo. I want to say this: one of the things that amuse me about countries that are not democratic is that they have 'Democratic' as a part of their name, so that Congo is the Democratic Republic of Congo, North Korea is the Democratic People's Republic of Korea. Whenever you see a country whose legitimate name is 'Democratic', know that there is no democracy there.
I'm submitting this because in Congo they could not hold elections, on the argument that they did not have enough money to fund the election. President Joseph Kabila is still in power as they continue to look for the money, and yet we know that the Democratic Republic of Congo is the richest resource country in the world, with nearly 34.1tn worth of minerals under her belly, which Europeans and other people, including Africans, are taking there every day to be marketed in Europe.
Gold comes from the Congo because it is labelled blood money. It comes through Uganda, through Kenya, through Tanzania, and is sold to Europe and Dubai gleefully, as if they did not know where it came from. When you have an environment such as that, how are we going together?
We know that the Inga Dam – Inga 3, if it were done – would give electricity to all African households. We have the African Union, as I draw to the conclusion of my presentation, now saying that, having failed so lamentably in the last 50 years, we must now have 'Agenda 2063'. But, even as I say, "We have failed," we cannot ignore that African countries – South African countries – have made visible strides. We can never be too pessimistic in this regard.
There are few African countries that have done things right: Botswana, with its little economy. Botswana is a country that is a success story, and one prays that it remains on that trajectory. It is because of good politics, largely. They may argue, the opposition will always argue. That is their business is to argue, but Seretse Khama knew when to leave, gave it to Ketumile Masire, knew when to leave, gave it to Festus Mogae, knew when to leave. Ian Khama is here. I think he knows when to leave.
That is why Botswana remains the only country on the continent of Africa ever to have had a budget surplus, aside from Mauritius: good politics, good economics. The De Beers came into Botswana and they were told to do things that benefit Botswana. Africans can do it. Paul Kagame, Rwanda post-genocide, you go to Kigali and you see order. My only prayer is that Paul Kagame will know when to exit. When he does – and does even if he has a puppet – Nyerere used to say, "You are not successful until your success succeeds."
It is, therefore, important, but there is no doubt that in the last 20 years – sound politics – there is a sense in which the Rwandese had to be guided democratically because of that experience, but, when one has a conversation and one sees what has happened in Rwanda, Africans can do it.
Yoweri Kaguta Museveni in Uganda has also done it. If he were to make me his advisor even for one day, I would say, "Your Excellency, you have done so well. Now leave the stage."
"Leave the stage. Come to East Africa; be the President of East Africa. Be the older statesman and guide the other little fellows that the Pearl of Africa may remain the Pearl of Africa."
Africans can do it. This is my thesis. Therefore, the argument that we cannot do it is not with merit, but I'm saying, good economics follows good politics, just like the tail follows the dog: attached to it.
Let me now talk about 'Africa Agenda 2063'. Nkosazana Dlamini-Zuma was here during the week, and she must have told you that Agenda 2063 is Africa's blueprint, that Africa will be a middle-level economy by the year 2063. There will be a road from Addis Ababa to Dakar; there will be a railway line from Addis Ababa to Accra. There'll be one from Cape Town to Cairo and that Central Africa will become the Silicon Valley, the Congo will supply us with power, with Inga 1, and Inga 2, and Inga 3. Ethiopia will supply us with power, with the Millennium Dam and the Gibe Dam, that Kenya will supply us with geothermal, that there will be a gas pipeline from Mozambique or Mtwara in Tanzania through to Bangui in Central African Republic, and that there will be an oil pipeline from Angola to South Sudan, that Juba will be the hub of East Africa and that Kigali will be our Hong Kong.
'Agenda 2063': on paper, fantastic; on paper, fantastic.
If you allow me a little morbidity, you will not be there, but your children and children's children will be there. The question is what must we do to reach there? We must do something about our laws, give them content. I have always held the view that Africa is going to transform if we look at good politics and the economics as Siamese twins.
I hold the view that Africa will grow through regional blocs. I hold the view that SADC [South African Development Community], with South Africa their anchor, can be a route, and an avenue and an agent for development. SADC, the politics in that region, in my view, if you go to South Africa, one can never be quite worried as you know that there is maturity in politics. The only thing is that they must handle the land question a little bit more maturely than the Zimbabweans did. The Zimbabweans in the room, just allow me a little latitude again.
There is no question that the land question is a very difficult question, but, if it is handled wrongly, there is a sense in which in the short term it boomerangs. I'm not worried about South Africa, the politics will remain good, but the land question is outstanding. I'm not worried about the politics in Namibia, but the land question is outstanding. I'm not worried about the politics of little Swaziland and little Lesotho; they know how to sort themselves out, because they're essentially of one blood.
But in truth, therefore, one can begin to see that if you sort out Mozambique, and you sort out Angola, and Zambia is put back to order – they are getting out of order – and Malawi is in order, and the Democratic Republic of Congo is in order, then SADC begins to negotiate as SADC, with free movement of goods and free movement of labour.
That comes with training. Africans should not go looking for paper certificates from Europe and America, which have no meaning in the African sense. I'm saying that we can have our own certification and add knowledge from other civilisation. There has never been something wrong with that, but we must have knowledge that is going to inform African development.
I know many engineers now from Africa running from Nigeria and Gambia, washing dishes in the United Kingdom, yet Africa needs that labour. I'm saying that SADC could be the agent. Let Lesotho not negotiate with the EU; let SADC do it.
I also hold the view that the other engine of development is East African Community. East African community will have a population of nearly 200m, and we should encourage the Ethiopians to come in. The only thing that we must do in terms of East African politics is that the Ethiopians must begin to open out. The Ethiopians who are here must begin to solve their [own oppression], because in the long to medium term it's going to undermine development in that country. When that happens, we must begin to ask ourselves whether we should not have free movement of labour.
One of the things that make Africa not function is that I come from Uganda, 55-minute flight; now I need a currency called Uganda currency. The American flies for five hours, from Boston to Los Angeles, deals with only one currency. You can see how that helps. I don't have to have even mobile telephony. I come here and the hotel has to give me something which does not even work in my room.
Yet, if you are one economy connected in all these critical areas, there would be free movement of labour. I would not be talking about work permit at least the Rwandese now allow other East Africans to work there without work permits. Even qualifications can be standardised. I know you accountants are already doing that. The doctors should do that and the engineers should do that so that there is free movement of labour.
Then Central Africa and that is the problem area. Congo must be brought to order, and the African Union can do it. Central African Republic must be brought to order, and East Africa can bring South Sudan to order. South Sudan and Eritrea are out of order. Then we can begin to build this economy.
Then, when we go to South Africa or to West Africa, we have ECOWAS. ECOWAS did something that I thought was very novel, and they have been in the business of doing novel things. When Charles Taylor was making people unhappy in Liberia, they removed the fellow. Recently, when we had another fellow called Yahya Jammeh trying to reject a loss, the fellow was removed and is now farming in Equatorial Guinea.
One only hopes that the new administration will do right, but it was because ECOWAS said, "We are not going to allow rogue individuals to undermine development in this region," and is sending a very good message to individuals: "You are no longer going to mess up, because, when you mess up, Gambians are dying in the Mediterranean to go and be enslaved in Italy and in Europe. We cannot allow that."
Ladies and gentlemen, I'm submitting as I conclude that I have no doubt in my mind that Africa can be great. I have no doubt in my mind that it is you and me that can make Africa great, but I have a problem with us who have had the advantage of formal education. Because of our short-term interests in instant gratification, we don't look to tomorrow. You and me know that when we are sick, if you are Ugandans, you'll come to Nairobi Hospital after Mulago has failed. When Nairobi Hospital fails, you go to London, or Dubai, or India. Let us make the hospitals here.
You in the South African region, when you are sick you go to South Africa, so you don't build hospitals and your doctors have no value. In Nigeria, which has the largest number of doctors and people who have the best qualification, even in engineering and medicine, when their president is unwell he cannot dare visit a hospital in Abuja.
In Zimbabwe Comrade Robert Gabriel Mugabe, who hates the colonialists with a passion, when he's sick he goes to the land of the coloniser. When the economy has been so run down, he dollarises the economy but criticises the United States nevertheless: contradictions.
I'm submitting to us that we can do it. Ralph Waldo Emerson used to say that the changes will not be dramatic. "Sweep your front yard and I sweep mine, and, low and behold, the whole world will be clean." I think that that is the way it should be. I think that 'Agenda 2063' cascaded into country visions. Vision can then make it, and we lawyers must ask ourselves, "What are we doing about it?" engineers, "What are we doing about it?" accountants, "What are we doing about it? Every profession must ask what they are doing about it.
I believe that you had a very good conversation with President Museveni. He does engage in useful conversations. It is the leaders, and one hopes that the proceedings of this conference will get to President Museveni, but would then get to other presidents – President Mutharika, President Lungu, President Mugabe, President Nyusi, President Zuma, and all the other African presidents – so that there is call to action? It can be done. It must be done, because, if it is not done, we are done. Thank you.
This is a transcript of the speech and it has been slightly edited by Vincent Huck for ease of reading