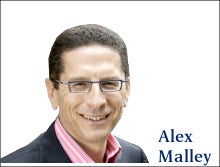 As Olympics fever takes hold around the world, the usual rhetoric on the amazing feats that can be achieved through team work abounds. While this is indeed true, what is often underestimated is simple hard work.
I hope you'll forgive me if I draw your attention to an Australian team in the Olympics in this instance! Four young Australian girls won the first Australian gold medal for the women's 100-metre relay this week. What I found particularly inspiring, apart from the extraordinary coordination and team work needed to achieve this gold medal, were the individual stories of stoicism, courage and, in particular, industry.
Take Cate Campbell, who was ruled out in 2010 with glandular fever. She recovered from her exhaustion enough to make it to training one day, and then the next day, and the day after, until she earned her place in the Olympics, and now in the history books.Or take Mel Schlanger, who was retired and was not even training 18 months ago due to a viral infection.
This team was not expected to win any medal, especially gold (even their coach had told them to enjoy the swim, given they were the underdogs). Yet by overcoming adversity and focusing on the mundane work, lap by lap, they managed to not only succeed, but win the race.
In my previous role in academia, and now as CEO of a global accounting organisation, I have been fortunate enough to encounter young people looking for advice on how to succeed. I often tell people that one of the most important things in life is having the courage to fail; as many business leaders will attest, failure can be the position from where you learn the greatest lessons. Equally important to succeed, however, is being prepared to do the work, day in, day out.
Recently, I came across Richard Ford's piece on the writer Raymond Carver and what resonated was the focus not on talent (although that is a prerequisite) but on 'being present' to do the work:
"… talent is simply a Step 1 requirement, and many possess it who never amount to anything; and because talent is impossible to quantify; and because it only promises but doesn't usually deliver. What delivers… [is] "being at your station,"… being there, present to do the work".
This applies to any field of endeavor – be it writing, sports, or business. Be at your station. Put in the hard work. No short cuts. Success will follow.