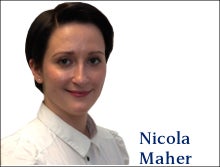 Have you ever, for whatever reason, wished you could jump into a DeLorean time machine (of the kind that Universal Studios told us would cost an exorbitant amount to print on our front cover), peer into a crystal ball or break open a particularly accurate fortune cookie to get a glimpse of the future?
I have certainly often imagined myself as a brave traveller zipping through time… albeit only in my more peculiar dreams.Yet while any of the above would require a miracle or at least a miraculous breakthrough in science to achieve, this issue offers you a convincing second best.
This month The Accountant, in collaboration with sister publication International Accounting Bulletin, conducted an extensive online survey and spoke with some of the industry's leaders to make a number of astute predictions as to the state of the accounting profession in 2020.
As for headline findings, I would say the profession's outlook for the coming eight years is, for the most part, optimistic. This is despite concerns that the global economy will remain volatile, that liability suits will increase and that regulation will continue to provide a big challenge.
It should not be a surprise to say the existing issue of public value perception (and by that I mean the expectation gap – what accountants think they should be doing and what the public expects them to be doing) has been exacerbated in the wake of the global financial crisis. This is a major cause for concern for the profession, and one that should be tackled in concert by professional accounting bodies around the world, as well as by the accounting firms that provide services to the market, if there is to be any improvement by 2020.
Tackling the issueMany of the world's more developed accounting markets have already begun to tackle the issue through further stakeholder engagement. However, as the emerging economic powers grow, more needs to be done – and sooner – to ensure sound ethical standards are in place, and that the public is aware of the profession and its role in making business possible.
Another initiative suggested is further work towards internationally recognised qualifications. These can only help to help raise awareness of the importance of the profession's work.
Two final thoughts on the reputation of the profession to come out of the survey are as follows.
First, that it should be continuously building trust – not only prioritising it as a knee-jerk reaction when something, such as fraud or economic catastrophe, shakes the status quo. Secondly, the behaviour of every individual accountant is central to maintaining trust. As such, all accountants have an obligation to behave ethically and with integrity. Obviously trusted ethical standards go some way to ensuring this, but ultimate responsibility lies with individuals.
While the outlook for 2020 is definitely not bleak, the global accounting profession has a number of goals to meet in the coming eight years if it is – to end with a sci-fi reference at least as corny as the one I began on – to 'live long and prosper'.