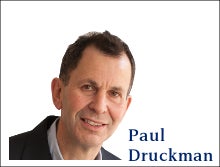 In August, the International Integrated Reporting Council (IIRC) brought together companies, investors, stock exchanges, credit rating agencies, data and analysis providers and the accounting community to discuss and exchange ideas on how integrated reporting <IR> is changing current ideas about corporate reporting. Masterminded by Lisa French, Head of External Relations for the Americas, the event was a resounding success and went a long way in raising awareness about the IIRC and its work. What started out as a small pilot programme gathering developed into a major event dominated by the investor perspective.
Although the IIRC has a lot of work ahead of it, it also has a lot of help! The session mentioned that there were 2.5 million accountants globally with approximately 1.5 million in business and public sector. With this many accountants in the world, no wonder the IIRC's new Deputy Chairman and President of WBCSD, Peter Bakker, reckons that the bean-counters will save the world!
Quotes from President Clinton, Einstein and other luminaries flowed from the floor and the commentators on the panels. A great quote I would pick out was "don't let what you know limit what you can imagine".
On reflection it was the investor-pull for <IR> that came through strongly from the event, this surprised many attending and was highly significant. Specifically:
Evolution of mainstream and ESG analysis is already taking place in the investment communities. One of the major pension fund commentators explained the evolution from 20th to 21st century practices in investment analysis and how it was happening today. This theme was a key take-away from the day.
Competitive advantage as an obstacle for the strategic view which underpins <IR> was not seen as a real issue as the sophisticated investor analyst is already aware of these. <IR> will present these in a better way and in a formal, evidenced manner. Another quote referenced in this space which gained real acceptance was, "don't let others define you".
Stock Exchanges, especially through the World Federation of Exchanges, could be a key change agent.
If you want to read more around this topic, the investor article recently released in the UBS Q-series provides a great overview both defining and analysing the key factors around <IR>.